In the spring of 2018, a sea of scooters swept over San Francisco, with Skip Scooters at the helm. At the forefront of this wildly popular last-mile transportation solution for urban commuters, Skip operated one of the largest fleets of shared electric scooters. To scale their business, they needed a partner that could help them delight their users with a great mobile experience and empower their employees with easy software for maintaining their fleets.

The Challenge: Navigating a Complex Tech Landscape
Skip Scooters, with its multifaceted technology ecosystem, had a complex task ahead. Their consumer mobile app needed to handle thousands of daily rides and payments, while their fleet management systems required up-to-the-minute updates. The entire system also needed to be easy to monitor and manage administratively.
The Solution: Deploying a Team of Seasoned Developers
Skip understood that getting their tech stack right was essential to delivering a robust and reliable solution built to scale. That's where Povio came in. We assembled an experienced team of dedicated engineers who dove into Skip's needs to understand their goals and define the product roadmap. Povio worked as an extension of Skip's team, designing and developing the entire full-stack solution.
Deliverables: What We Built
Application Programming Interface (API)
Web Application
iOS & Android Applications
Management Software
We started with API and web app development to enable Skip's core functionality. Then we built native iOS and Android apps that provided a seamless mobile experience for finding, renting, and returning nearby electric scooters nearby.

Delivering a Smooth Ride
The consumer apps for iOS and Android were central to Skip's' services. We incorporated a quick payment stack, supported by Stripe, Google Pay, and Apple Pay, to provide secure and efficient transactions for each ride.

Improving Fleet Management
Rangers are Skip employees who maintain the fleet of scooters by keeping them charged and ready for rides. To work more efficiently and improve their overnight operations, Povio developed a mobile app to track, collect, and recharge Skip's fleet.

Data-powered Management Dashboards
Data is crucial for any business to operate effectively. Skip needed custom system management dashboards we developed using the React library and hosted on Google Cloud Platform.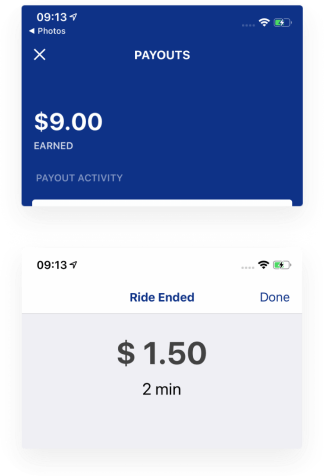 Partner with Povio to
disrupt your industry
Partnering with Povio helped Skip delight thousands of urban commuters with sustainable transportation options and paved the way to Skip's successful exit in 2020. We love empowering innovative teams like Skip to shake up their industries. If you're embarking on an ambitious journey, Povio is ready to help. Whether you're just starting, pivoting, or scaling, please reach out for a free consultation.